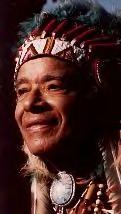 Mattaponi Indian Reservation
West Point, Virginia
Chief: Webster "Little Eagle" Custalow
State Recognized February 25, 1983
The members of this tribe live on a reservation that stretches along the borders of the Mattaponi River in King William County, Virginia. Presently they number about seventy-five. Many of the younger members have left the reservation to seek work elsewhere. The Mattaponi Indian Reservation dates back to 1658. In those early days, the people made their living completely from nature's sources. Before the first settlers reached this land, these Indians served and worshipped the Great Spirit, who was their God in the Heavens above the sun, the moon, and the stars. Now they worship as Southern Baptists, and have their own church on the reservation.
In 1646, the Mattaponi Indians began paying tribute to an early Virginia governor, and this custom continues to the present day when at Thanksgiving they present game or fish to the Governor of the Commonwealth of Virginia.
The Mattaponi Indian Reservation was created from land long held by the Tribe by an act of the Virginia General Assembly in 1658. Being one of the oldest reservations in the country, the Tribe traces its history back to the Great Chief Powhatan, father of Pocahontas, who ruled most of Tidewater Virginia when Europeans arrived in 1607. The story of Pocahontas and Captain John Smith begins here.
Since the Assembly's designation of the Reservation in 1658, the Mattaponi Tribe has maintained its heritage and many of its customs despite strong pressures pushing toward assimilation with the mainstream culture.
Through the years both the Reservation's physical size and the number of Tribal members have been diminished. The Reservation presently encompasses approximately 150 acres, a portion being wetland. Although the Tribal Roll numbers 450 people, not all actually live on the Reservation. The Mattaponi Indian Tribe is State recognized and continues to maintain its own Sovereign government. The Governing Body today is made up of the Chief (pictured above), Assistant Chief, and seven Councilmen.
Many Mattaponis who live off the Reservation would like to return to their traditional homeland to continue the Tribe's culture and traditions. To do so will require expansion of the land holdings of the Mattaponi Tribe. The Reservation today sits on the banks of the Mattaponi River, one of the most pristine rivers in the Eastern United States. Facilities on the Reservation today include living quarters, a small church, a museum, a Fish Hatchery and Marine Science Center, and a community Tribal building that was formerly the Reservation school. While some of the residents pursue their endeavors on the Reservation, many of the younger members seek work in other areas.

A Message from the Assistance Chief
Carl Lone Eagle Custalow
Mattaponi Indian Reservation
1467 Mattaponi Reservation Circle
West Point, Virginia 23181
804-769-4508~ FAX 804-769-0294
Dear Friend of the Mattaponi,
When I was a boy in the early fifties, my father, Chief Webster Little Eagle Custalow, would bring me on a crisp spring morning to the banks of the Sandy Point tract on the Mattaponi River. I still feel the thrill of seeing the river flowing, the herons fishing, and ducks nesting in the marshes. Occasionally an eagle or an osprey would soar overhead. I used to long for this large piece of our original Homeland to become part of our Reservation again. The fish, wildlife and bird habitat make Sandy Point an especially sacred site for our Tribe.
When I returned to the Reservation and became Assistant Chief of the Tribe, I had this vision of a modem Hatchery, a beautiful three story Cultural Center built over the water and a Living History Village to study and teach our culture to tribal members and the general public alike.
We now have the opportunity to re-acquire this 2050 acre piece of our Homeland, known as the Sandy Point Tract, for an estimated 3 million dollars. At first, I felt overwhelmed as I considered the large sum of money needed. I didn't know how we were going to raise this kind money. Then I realized we could not turn this opportunity down.
The vision for my beloved Reservation, the beauty of it all and the chance to protect rich Virginia natural resources, forests, meadows and wetlands, while strengthening our cultural heritage, gave me the will to hope.
We may have only six months in which to purchase the first 550 acre parcel. How can I even begin to express what this land means to us? It used to be part of our Reservation. It has a sacred and very special meaning to us. This land is our natural heritage and the way for us to realize our vision.
On the present 150 acre Reservation, the Church still stands. The old School House is now a Community Center. One of the oldest Shad Hatcheries in the Nation has been replaced with a newly equipped modem one. The Mattaponi River flows unchanged, much as it did in the 1600's. Last year, the Tribe returned an estimated 8 million endangered Shad to the river.
We have struggled to maintain our identity for over 350 years. We have endured. The Mattaponi have been described by historians as a people who have refused to give up. I won't give up. I am determined to raise the funds necessary to re-acquire our Homeland.
This place is in our hearts. We need your help to place it safely in our stewardship. Please help us to realize our dream. What I seek to do, I can not do without you. It is critically important that you be with us in our quest. We have our work cut out for us. Can I count on you again for help in returning Pocahontas' Homeland – our Homeland – to our Tribe?
Your gift in any amount will make a difference.

Thank you,

Carl Lone Eagle Custalow
Assistant Chief of the Mattaponi Tribe

VIRGINIA COLONIAL RECORDS.

Govern'r & the Councill of our Colony and
Plantacon of Virginia in The West Indys.
---
Treaty Between Virginia And The Indians
1677
Articles of Peace between the most Mighty Prince & our Dread Soveraigne Lord Charles the II by the Grace of God King of greate Brittaine, France, and Ireland. Defender of the ffaith &c: And the severall Indian Kins and Queens &c Assentors and Subscribers hereunto made and Concluded at the Camp of Middle plantacon, the 29th day of May: 1677; being the day of the most happy birth & Restauration of our s'd Soveraigne Lord, and in the XXIX yeare of his said Ma'ties Reigne.
By the Right Honourable Herbert Jeffreys Esq'r Governour and Cap't Generall of his Majesties Colony of Virginia: Present the Hon'ble S'r John Berry Kn't & Francis Morrison Esq'r his most Sacred Ma'ties Commiconers appointed under the great Seale of England for the Virginia affairs, And the Hon'ble Councill of State of the said Colony.
Whereas his most Sacred Ma'tie hath of his owne Royall grace and meer motion intrusted to my care and endeavours the Renewing management and concluding a good peace with the Neighbour Indians in order whereunto with the advice and Assistance of the hon'ble S'r John Berry Kn't and Francis Morrison Esq'r I have here caused to be drawne up these ensueing Articles and Overtures for the firme grounding and sure establishment of a good and just Peace with the said Indians, and that it may be a Secure and lasting one founded upon the strong Pillars of Reciprocall Justice by confirming to them their just Rights, and by Redress of their wrongs and injuries that soe the great God who is god of peace and Lover of Justice may uphold and prosper this our mutuall League & Amity. It is hereby Concluded, consented to & mutually agreed as followeth:
I. That the Respective Indian Kings and Queens doe from henceforth acknowledge to have their imediate dependancy on, and Own all Subjection to the great King of England Our now dread Soveraigne his heires and Successors, when they pay their Tribute to the Right hon'ble his Ma'ties Govern'r for the time being.
II. That thereupon the said Indian Kings & Queens and their Subjects shall hold their lands, and have the same confirmed to them and their posterity by Patent under the Seale of this his Magesties Colony, without any fee gratuity or Reward for ye same, in such sort, and in as free and firme manner as others his Magesties Liege Subjects, have and enjoye their Lands, and possessions, paying onely yearly for, and in Liew of a Quitrent or acknowledgement for the same three Indian Arrowes.
III. That all Indians who are in amity with us, & have not land siffitient to plant up, be upon information forthwith provided for, and land laid out, and confirmed to them as affores'd never to be disturbed therein, or taken from them, soe long as they owne keep and maintaine the due obedience & Subjection to his Majestie his Govern'r and Government; & amity & friendship towards the English.
IV. Whereas by the mutaull discontents, Complaints, jealousies, and feares of English and Indians occasioned by the violent intrusions of divers English into their lands, forceing the Indians by way of Revenge, to kill the Cattle & hoggs of the English, whereby offence, and injuries being given, and done on boeth sides, the peace of this his Majesties Colony hath bin much disturbed, and the late unhappy Rebellion by this means in a great measure begunne & fomented which hath involved this Country into soe much Ruine, & misery, for prevention of which injuries and evill consequences as much as possible we may for time to come it is hereby concluded and enacted that noe English, shall seate or plant nearer then three miles of any Indian towne, and whosoever hath made or shall make any encroachment upon their Lands shall be removed from thence and proceeded against as by the former peace made when the Honourable Francis Morrison was Govern'r and the act of Assembly grounded thereupon is provided & enacted.
V. That the said Indians be well Secured & defended in theire persons goods and properties against all hurts and injuries of the English, and that upon any breach or violation thereof, that the aggrieved Indians doe in the first place repaire and adress themselves to the Govern'r Acquainting him therew'th without rashly and suddainly betakeing themselves to any hostile course for Satisfaction who will inflict such punishment on the wilfull infringers hereof, as the Lawes of England or this Country permitt, and as if such hurt or injury had bin done to any Englishman, which is but just and Reasonable they owneing themselves to be under the Allegiance of his most Sacred Majestie.
VI. That noe Indian King or Queen be imprisoned without a Special Warrant from his Ma'ties Govern'r & two of ye Councill, and that noe other Indian be imprisoned without a warrant from a Justice of peace, upon Suffitient cause of Committment.
VII. That the said Indians have and enjoy theire wonted conveniences of Oystering, fishing, and gathering Tuccahoe, Curtenemmons, wild oats, rushes, Puckoone, or any thing else for their natural Support not usefull to the English, upon the English Devidends, Alwayes provided they first repaire to some publique Magestrate of good Repute & informe him of their number and business, whoe shall not refuse them a certificate upon this, any other Lawfull occasion, soe that they make due returne thereof when they come back and goe directly home about their business without wearing or carrying any manner of weapon, or lodging under any Englishman's dwelling house on night.
VIII. That noe fforreigne Indian be suffered to come to any Englishman's plantacon without a friendly Neighbour Indian in his Company with such Certificate as aforesaid, And noe Indian King to refuse to send a safe Conduct with the fforraigner upon any Lawfull occasion of his Comeing in And that noe Indian doe paint or disguise themselves when they come in.
IX. That all Indian Kings, and Queens tributary to the English haveing notice of any march of strange Indians neer the English quarters or plantacons doe forthwith repaire to some of the next officers of the militia, and acquaint him of their nation number and designe, and which way they bend their Course.
X. That if necessary a convenient party be presently sent out by the next Collo. of the Militia to aide strengthen and joyne, with our Friendly Indians, against any fforreigne Attempt, incursion, or depredacon upon the Indian townes.
XI. That every Indian fitt to beare armes of the neighbouring Nations in peace with us, have such quantity of powder and shott allotted him as the R't Hon'le the Govern'r shall think fitt on any occasion, and that such members of them be ready to goe out with our forces upon any march against the enemy and to Receive such pay for their good services, as shall be thought fitt.
XII. That each Indian King, and Queen have equall power to govern their owne people and none to have greater power then other, except the Queen of Pomunky to whom severall scattered Indians doe now againe owne their antient Subjection, and are agreed to come in and plant themselves under power and government, whoe with her are alsoe hereby included into this present League and treatie of peace, & are to keep, and observe the same towards the said Queen in all things as her Subjects, as well as towards the English.
XIII. That noe persons whatsoever shall entertaine or keep any Neighbor Indian as Servant or otherwise, but by licence of ye Govern'r and to be upon obligation answerable for all Injuries and damages by him of them happening to be done upon any English.
XIV. That noe English harbour or entertaine any vagrant or Runnaway Indian, but convey him home by way of pass from Justice to Justice to his owne towne under penalty of paying soe much per day for harbouring him as by the Lawe for entertaining Runnaways is Recoverable.
XV. That noe Indian of those in Amity with us shall serve for any longer time then English of the like Ages should serve by act of Assembly, and shall not be sold as Slaves.
XVI. That every Indian King and Queen in the month of March every yeare with some of theire great men tender their obedience to the R't Honourable his Majesties Govern'r at the place of his residence, wherever it shall be, and then and there pay the accustomed rent of twentie beaver skinns, to the Govern'r and alsoe their quit rent aforesaid, in acknowledgment that they hold their Crownes, and Lands of the great King of England.
XVII. That due care be had and taken that those Indian Kings and Queens their great men and Attendance that come on any public business to the R't hono'ble the Governo'r Councill of Assembly may be accommodated with provisions, and housroome at the publique charge. And that noe English Subject shall abuse revile, hurt or wrong them at any time in word or deed.
XVIII. That upon discord or breach of Peace happening to arise between any of the Indians in amity with the English upon the first appearance and beginning thereof, and before they enter into any open Acts of hostility or warr one against another they shall repaire to his Majesties Governo'r by whose Justice & wisdome, it is concluded such difference shall be made up and decided, and to whose finall determination the said Indians shall Submitt and conforme themselves.
XIX. That for preventing the frequent mischeifes and mistakes occasioned by unfaithfull, & corrupt interpreters, & for the more Safetie satisfaciton, and adgvantage both of the Indians, and English, that there be one of each nation of our neighbouring Indians, that already can or may become capable of speaking of English, admitted together with those of y'e English to be their owne interpreters.
XX. That the severall Indians concluded in this peace forthwith restore to the Respective English parents & owners, all such children servants, and horses, which they have at any time taken from them, and now remaining with them ye said Indians, or which they can make discovery of.
XXI. That the trade with the said Indians be continued, Limited, restrained, or laid open, as shall make best for ye peace and quiett of the Country, upon which affaire the Govern'r will consult with the Counsell and Assembly, and conclude thereon at their next meeting.
XXII. That it is further agreed that all Indians and English in the Province of Maryland are inclined in these Articles of peace. And that neither partie shall offend the other without breach of his Majesties peace.
Signe and Tribe of the Indian representatives who witnessed the signing of the treaty.
---
After this treaty was confirmed presents were sent to the various Chiefs from England, together with various badges of authority. The Queen of Pamunkey received a red velvet cap to which was fastened a silver frontlet by chains of the same metal. After remaining long in the possession of the Pamunkeys at Indiantown, Va., it was given or sold by them between 1840 and 1850 to Mr. Morson, of Stafford county, Va., from whose heirs the frontlet was bought by the Association for the Preservation of Virginia Antiquities and is now deposited with the Virginia Historical Society. the Historical Society owns a small oval medal of rude design inscribed on one side, "Ye King of" and on the other "Patomecke." This medal was probably given soon after the treaty of 1677.
---
© Copyright 1997, WHRO.

About the Mattaponi Legacy Plan
---
As the Mattaponi people seek to rebuild their society in their traditional lands, they are constrained by the diminution of their reservation over the past two centuries. The Reservation today consists of only 150 acres that overlook the Mattaponi River, and much of that land is designated wetlands. Clearly, the people need additional space to realize their dreams.
The Mattaponi Tribal Legacy Plan is designed to further those dreams. The plan calls for the expansion of the Reservation to about one thousand acres. Proposed use of the land includes the following:
Cultural and Exhibition Center
Nature Interpretative Trail
Traditional Mattaponi Village
Amphitheatre
Pottery and Craft Workshop & Classrooms
Fish Cannery
Museum
Residential Areas for Tribal Members
Center for Native American Studies
Library
Center for Study of Mattaponi River Ecology
Center for Indigenous Knowledge Preservation
| | |
| --- | --- |
| Scientific and cultural tourism along with a renewed interest in Native American culture in general, makes the development of the Mattaponi Indian Reservation a critical component of the broader vision for developing Virginia's Middle Peninsula. Along with Colonial History, historic buildings, river plantations, courthouses, churches, steamship ports-of-call, Native American encampments and Cultural Centers such as the one proposed by the Mattaponi Legacy Plan will do much to attract the kinds of low environmental impact and sustainable economic activity that is desired for the Commonwealth and the people of the Region. | |

Major Goals:

---
Increase the land base of the Mattaponi Reservation

Provide relief for the impoverished and unemployed members of the Tribe

Enhance the art and culture of the Mattaponi People

Foster communication of Mattaponi history and heritage

Assist the Tribe in achieving federal recognition

Preserve the natural resources of the Reservation while developing an economically sustainable community

Work with other organizations and other Tribes to develop and market a Cultural Heritage Corridor in King William County

Work with the Mattaponi and Pamunkey Rivers Association for the preservation of the quality of these marine systems

The Mattaponi Connection
to River and Bay
---
Across rural Virginia, citizens are searching for ways to create sustainable communities and economies while preserving the quality and character of the landscape, their small towns and villages, and the life styles they love. For thousands of years the Mattaponi People managed to do just that. Today, with all the challenges to environmental quality, the Mattaponi Heritage Foundation and the Mattaponi People have launched an ambitious program to build an economically and environmentally sustainable community on their traditional lands along the Mattaponi River.
Beginning with a grant from the Virginia Marine Resources Commission to establish and operate a fish hatchery near West Point, Virginia, the Mattaponi Heritage Foundation will seek other support to allow them to extend their land holdings along the Mattaponi watershed in King William County. Activities on the Reservation supported through the Mattaponi Heritage Foundation will enable them to develop an economic base for their community through scientific and cultural tourism and as a center for Native American studies.
Combining modern science with indigenous knowledge about the ecology of the river and bay, the Mattaponi people seek to show all of mankind how to live in harmony with the natural world while sustaining the highest quality of life.
The success of the Mattaponi Heritage Foundation will provide benefits to all of Tidewater Virginia, as the development of cultural and scientific tourism and educational resources around Native American knowledge and culture add to the critical mass of attractions that bring visitors to Tidewater.

Mission of the Mattaponi
---
Build a sustainable community on the Mattaponi River, a tributary of the Chesapeake Bay, that will extend the thousands of years of Mattaponi history and heritage and, in doing so, demonstrate to all people how they may live successful and rewarding lives in harmony with the earth.

April 7, 1997
Indian tribe cites 320-year-old treaty to thwart reservoir plans
BY ROBERT LITTLE,
The Virginian-Pilot Copyright 1997,
Landmark Communications Inc.

You can read the years in Webster Custalow's crooked fingers like lines in a tree trunk.
Time was he struck a formidable pose, Custalow will tell you, hauling railroad ties off the saw mill or hoisting 100-pound bags of salt around the cucumber-pickling plant during the Great Depression. Now he stands about chest-high to a door knob, coiled under as if all 85 of his birthdays were in a sack tied around
his shoulders.
Even the shad and the terrapin in the river out back don't fear him much anymore. These days, Custalow says, strength comes from his family.
That family is Virginia's Mattaponi tribe of American Indians, of which he is chief. And it's so strong that a $200 million development project could derail because of it, thwarting the King William County government and the Newport News City Council.
Citing a 1677 treaty, the Indians who live on Virginia's Mattaponi reservation are challenging plans for a 1,400-acre reservoir nearby. They say it would kill the fish spawning in tribal waters and violate a guarantee from England's King Charles II that nothing would be built within three miles of their land.
Government officials are investigating the claim, and they aren't sure what to make of it.The treaty had always made for nice Thanksgiving Day storytelling, but no one has ever tried to enforce it as a matter of law. The courts might ultimately have to decide whether it can still be enforced.
If the 20 families on the Mattaponi reservation succeed, they will have won a battle their ancestors forever lost. And they will do it armed only with a 320-year-old pact with the King of England and a few thousand years of heritage.
``I've been thinking about it a long, long time,'' Chief Custalow said Friday, standing in a corner of the 150-acre reservation, on the banks of the Mattaponi River.
``I'm a person that from my youngest days God always showed me visions, and I have had a vision on that reservoir. I see terrible things.
``I'm sure you've read in books that wind and water are the most powerful things on the face of this Earth. We know that from living. And when you try to cage that up, man has no method of stopping what can happen.''
King William County officials are planning to build the reservoir about two miles from the edge of the Mattaponi reservation. With a peak capacity of 75 million gallons a day, the reservoir would supply the city of Newport News with drinking water through 2040.
The benefits to the surrounding rural county of 11,000 could be enormous. Newport News would pay $150 million or more over the next 50 years. King William could draw as much water as it needs, assess acres of new waterfront property and get five recreation centers and boat landings for its residents.
For a government with annual revenue of about $20 million, the deal is like finding a diamond mine. County officials have worked on the project since 1987, and are willing to buy all the land around the small Cohoke Creek.
They hope to have a permit from the Department of Environmental Quality soon after the public comment period closes April 15. The Army Corps of Engineers would be next. The new lake won't yield a glass of water until 2005 at the earliest.
``Nobody involved in this project expected it to be a free ride,'' King William Administrator David Whitlow said. ``But this is a tremendous opportunity. It's not like it's going to be an eyesore and a detriment to property values.''
The Mattaponi don't care so much about eyesores. The reservoir won't flood any of their Reservation, but they dispute government claims that increased salinity won't affect fishing on the Mattaponi River.
And property values aren't even worth discussing. Their property has value because the Mattaponi have lived there 1,000 years or more.
``All through the years, this is how we lost our land -- because we don't have the numbers, or the political clout,'' said Assistant Chief Carl Custalow, Webster Custalow's son and the manager of most tribal affairs.
``But just because you're small, you don't have to let them walk all over you. For years we've never exercised our treaty rights.
Well, now we've had enough.''
Virginia has eight recognized Indian tribes, but only the Mattaponi and the Pamunkey have designated reservations. The Pamunkey reservation is a few miles from the Mattaponi, but its boundaries would not be encroached by the reservoir.
The tiny Mattaponi reservation is two miles of wooded backroad from Route 30, a main artery through King William County. It is marked by a faded, plywood sign reading ``See Mattaponi Indian Museum. Stone Age Relics 1,000 Years Old.'' The community is a cluster of old cars and picnic tables around trailers, brick houses and rickety wooden shacks with rusty tin roofs.

The government has been consistent in honoring one aspect of the Indians' treaty rights: Residents don't have to pay real estate tax for their land, or personal property tax for their vehicles. But they also don't actually own their land; It's kept in trust and passed down to new generations. The houses are modest because no one can get construction loans without a deed for collateral.

There are other privileges still extended the Indians. They can hunt and fish without a license, and hook into community power lines and phone lines tax-free.
If they make a living on the reservation they are exempt from income tax. If they buy and sell goods among themselves, they are exempt from state sales tax, too.

But reservation life is not one of luxury. The village is nearly indistinguishable from any low-income community in eastern Virginia. Only the scattered tepees -- largely for the tourists stand out.

Few Indians earn a living on the reservation any more. Carl Custalow, who still makes some money fishing the river, works for an insurance agency in Mechanicsville, for instance. His two children have moved away. He hopes they'll come back.
But the river doesn't yield barrels of terrapin or a net full of catfish from shore to shore anymore. And the state's restrictions on shad or rockfish make things even tougher. Some residents sell art or beadwork, a tough way to make a buck when you're milesfrom the nearest ATM.

``All my life, I've fished out there. From a little boy on up,'' said Chief Custalow. ``You had to eat the fish, you had to get out here and dig in the earth to get what you needed to live. We couldn't go to a place and buy fancy stuff.
``A lot of that's changed, I know, but I saw something with these two eyes I hope I never see again. I saw indian starving. Children, little ones, that looked like old indian the way the skin was hanging on their bones. We wouldn't be here today without that river.''
The reservoir -- and whatever it does to Indian burial grounds, campsites or to the water on the river -- is just the latest of government's indignities, tribe members say.

``We always look seven generations ahead,'' Carl Custalow said. ``You take somebody like Newport News, they're looking right now -- for the business. For the dollar.'' Two months ago, the Mattaponi sent a letter to the state attorney general's office announcing their intention to invoke colonial treaty rights to block the reservoir.

State lawyers have been looking into the issue, but don't know when they'll have something to say.

``This touches on at least three areas of law and several state agencies,'' said Don Harrison, spokesman for Attorney General Jim Gilmore. ``It deals with treaty law,historic preservation, water rights -- this is fairly complex.'' According to a peace treaty between 12 Virginia Indian chiefs and King Charles II, signed
May 29, 1677:

``Noe English shall seate or plant nearer than three miles of any Indian Towne, and whosoever hath made or shall make any encroachment upon their lands shall be removed from thence.'' The Mattaponi and Pamunkey are descendants of the chiefs who signed the pact. The three-mile buffer was created so colonists and Indians would stop killing each other, the treaty suggests.

In return, the Indians swore allegiance to the British crown. And they promised to return the children and horses they'd taken, to stop killing cattle and hogs and to refrain from any other injustice ``which hath involved this Country into soe much
Ruine & misery.'' Their annual payment, ``in Liew of a Quitrent,'' would be three Indian arrows and 20 beaver pelts.

That tradition has continued. Every Thanksgiving, members of the Mattaponi and Pamunkey tribes leave some turkeys, some beaver pelts or a deer or two outside the governor's mansion as payment in full.

The attorney general might weigh in soon, but the issue could take years to resolve if the Indians take it to court. They have little money, but are trying to build a coalition of native Americans throughout the country to pitch in.

``The indian, the heritage have been there since before this country was even founded. Why would anyone want to take that away?'' asked Thomasina Jordan, head of the state Council on Indians, a governor-appointed committee that oversees Indian affairs.

``It's not so much the treaty that matters, it's beyond that. There's so little left of the American Indians that to take away any more would be a real tragedy.''

SAVING THE MATTAPONI INDIANS AND THEIR HERITAGE

"The Mattaponi indian have lived on the river that bears our name for thousands of years. We are direct descendents of the Great Chief Powhatan, Father of Pocahontas. Since the European settlement at Jamestown, much of our history and our language have been lost because we were forced into the mainstream of society. Despite this we still have our treaty, our Reservation and much of our culture. It is tragic that at a time when the Mattaponi indian and other Indian indian of Virginia are working to regain our culture and traditions, Newport News would be pushing hard for the King William Reservoir. This project threatens our traditional shad fishing and would flood Indian cultural sites and graves; land that is sacred to us.... The Mattaponi River and the Reservation are our life. If this river is destroyed, we have nowhere else to go. We are the indian of the river, and we have no alternative but to fight this reservoir."

Carl Custalow
Assistant Chief of the Mattaponi Indian Tribe
Eight tribes are recognized by the Commonwealth of Virginia:
The Chickahominy
The Eastern Chickahominy
The Mattaponi
The Upper Mattaponi
The Monacan
The Nansemond
The Pamunkey
The Rappahannock
The Mattaponi and Pamunkey tribes are the two tribes in Virginia that live on reservations. They have headquarters in King William County and operate museums on the reservations.
These two tribes (which are sovereign nations) have treaties with the Commonwealth of Virginia that predate the United States. They are the oldest reservations in the country.
Other Native Americans represented among Virginia's population: Anishinabe, Cherokee, Chickasaw, Chippewa, Creek, Eastern Cherokee, Eno-Occaneechee, Haliwa-Saponi, Iroquois, Lumbee, Mashpee-Wampanoag, Navajo, Pocomoke-Occahannock, Powhatan, Seneca, Shawnee, Shinacock, Sioux, St. Regis Mohawk, and Tuscarora.

Mattaponi Indian Reservation's Home Page
I do hope you have enjoyed my tribute to Chief Webster "Little Eagle" Custalow and the Mattaponi Indian Nation